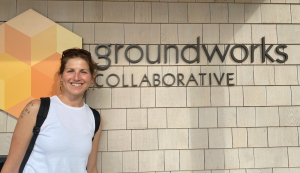 Groundworks Collaborative lost a beloved staff member—the Coordinator of Morningside House—in the tragic events of April 3rd at that shelter.
Leah Rosin-Pritchard is irreplaceable. She was a wonderfully strong, positive, beautiful and compassionate person who gave generously of her spirit and skills in support of all Morningside House residents and her professional colleagues.  There are no words to express the depth of loss felt by her Groundworks teammates and our hearts go out to her family and friends.
 
We can unequivocally say that Groundworks will not be the same without Leah.  Our staff and our program participants are grieving.  We are, at the same time, personally and organizationally impacted, and we are focused on supporting each other while continuing to provide food, shelter, and supportive services to people who need us.