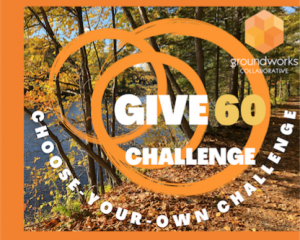 The GIVE60 CHALLENGE is a choose-your-own challenge fundraiser for Groundworks' housing support and shelter programs.
You can truly participate in any way you'd like (in-person, virtual, solo, or with a team).
CREATE YOUR OWN individual challenge, FORM A TEAM challenge, or JOIN US FOR THE "CHANGE-OF-PACE CHALLENGE"— a no-pressure, family-friendly walk, run, jog, stroll and roll event—on the morning of October 23rd at the West River Trail!