Volunteer Your Time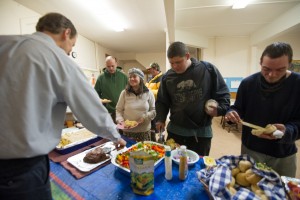 Contact us using the contact form located to the right.
We have an ongoing need for the following volunteer projects:
Food Shelf Volunteers (stocking shelves, making deliveries, etc.)
Nightly meals for the South Main Street Shelter (preparing and dropping off a meal for ~35 people)
People to call on with pickup trucks to help drive residents with their belongings to their new apartments
Skilled labor for maintenance and repairs to our facilities (carpentry, painting, etc.)
Landscaping and gardening
Cooking a meal to drop off for residents of Groundworks Shelter (on Royal Road)
Help with Groundworks' fundraising events
Sign Up to Volunteer
Sign up below to receive email updates for volunteer opportunities at Groundworks Collaborative.