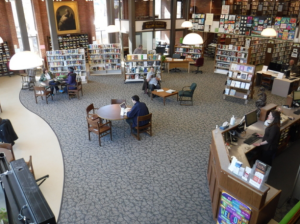 'Libraries have a really strong position of supporting and strengthening the spirit of the underserved,' says Starr LaTronica, director of Brooks Memorial Library, which welcomes an increasing number of people experiencing homelessness
BRATTLEBORO — Brooks Memorial Library is on the front line of the town's and region's homelessness conundrum.
With the exception of Groundworks Collaborative, the library is the one place in town where people who are unhoused can find shelter from the weather, have access to the internet, write a letter to a family member, get help finding the services they need, get a few books to take out, use a clean bathroom, drink some cool, clean water, and find a kind word when they really need one.
"We try to know everybody by name," said Library Director Starr LaTronica. "There's some people that don't want to tell us their name, and that's fine. But we try and sort of keep an eye on people."
The library prides itself on offering homeless people a human connection.
"We help people with a connection that's not judgmental," LaTronica said. "Come in. We're nice. We treat people as human beings. What I keep hearing is that people just walk by the homeless. They don't even see people. They don't want to see people because it's so hard on a person's soul to know that homelessness is going on."
Homeless people, she said, "feel invisible."
"They feel or they're treated as an annoyance, as a detraction from town, as somebody to be scared of," LaTronica continued. "I've never been scared of any of our homeless folks. Not ever. Even from all the folks downtown. I've never felt danger from them in any way. They make me feel sad, because I wish I could help them more than I do."
Studies show that people need to have a certain amount of positive personal interaction every day, LaTronica said, describing that policy as the library staff try to provide as much of it as "the most basic and maybe one of the most important things we can do for folks."
"So when you come into the library, everybody's treated with respect," she said. "And we demand that people who come in treat one another with respect, and they need to treat us with respect. And when that doesn't happen, then we ask that they leave."
LaTronica told a story about one person in town who was "very, very troubled, very distraught, and obviously in a lot of pain." That person had been yelling on the street before coming into the library. LaTronica tried to calm the person down.
But it was one of her staff members who saved the day. ("And I'm so proud of him," LaTronica said.)
"One of our circulation staff members had observed this person in the past, and noticed that they'd like to sit and look at books about dogs," she said. "So when I got up, he came over with the American Kennel Club Dog Book."
The library staffer "just opened it up and gently slid it onto the table in front of them."
"That's what we do," LaTronica said. "What's more important than that?"
A librarian's take on a crisis unfolding
It is exhausting to live your private life in public, LaTronica said.
"Imagine not having a minute of privacy," she said. "Imagine having to carry everything you own with you. And then the skies open suddenly, and it pours rain and everything is lost. I can't imagine how exhausting it is being homeless. It's also expensive, because you can't buy food and prepare it. You have to buy processed items."
Laundry is another challenge.
"If all you own is what you're wearing, and maybe something in a bag, you can wash the clothes in the bag," LaTronica said. "But then you've got another bag full of dirty clothes once you take yours off."
"I know people that struggle to maintain their hygiene and to maintain their appearance," she continued.
"You're constantly having to somehow come by a clean pair of underwear or a clean shirt," LaTronica said. "Now Groundworks has laundry facilities, but there have been past summers where I've gone to the laundromat and bought laundry cards for people to go and wash their clothes."
The lack of mental health services accounts for a large portion of the problem.
"Who would have good mental health if you are worried about where you're going to sleep, and especially where your kids are going to sleep that night?" LaTronica said. "Who could possibly maintain their mental health?"
When many people think of homelessness, they think about people on the street asking for money, they think about those involved in the buying and selling of illegal drugs, and they think about thieves.
Those stereotypes make it easy for people to criminalize those experiencing homelessness, to believe that they deserve or caused their circumstances. It makes it easy to walk by a homeless person without acknowledging them, or to refuse to put a few quarters into a panhandler's hand.
"There are so many broken systems, overtaxed systems, or [simply] injustices that have created homelessness," LaTronica said.
"We observe this and think, 'What can I do?'" she said.
The people's palaces
Historically, libraries have always played a significant role in serving the unfortunate. How many Americans have heard stories from their immigrant grandparents about how they learned English at a library, or learned how to read there, or who got their papers in order there, or found social services there in a time of need, or got their first job through newspapers they read for free there?
That may have been decades ago, but nothing has really changed.
"Libraries are still palaces for the people," LaTronica said. "Libraries have a really strong position of supporting and strengthening the spirit of the underserved."
She described libraries as "the universities of the immigrants that came here and lived in tenements."
"They have always been in the business of lifting people up," LaTronica said. "The annals of library history are filled with people that came there and found salvation there and found the help they needed to move forward. I'm really proud to be part of that tradition."
Four months ago, Groundworks was forced to close for six weeks after one of its clients murdered one of its caseworkers.
The library took over the responsibility of handling the mail. It allowed LaTronica to see even more closely how homelessness works – or doesn't work – in Brattleboro.
"People get their mail at Groundworks," LaTronica said. "And that includes checks. Some people who are homeless actually have jobs, and they need their checks mailed to them."
LaTronica said that the alternative for homeless people is to use the U.S. Postal Service's General Delivery program.
Once the library temporarily took over distribution of mail to Groundworks' clients, a number of new people came in.
"We saw folks [who] we had no idea that they were homeless," LaTronica said. "We had folks come in who were well dressed, well groomed, and [didn't] fit the stereotype of someone who is unhoused."
She said there's "a fair amount" of people who "are just finding someone's couch to sleep on or finding a nook somewhere that they can camp. As well as living rough."
The library offers homeless people temporary library cards.
"It entitles them to check out two books at a time," LaTronica said. "And it and it allows them online access to all of our downloadable books and databases. We have a little mini DVD player so folks can come in when they're at their wit's end, and they can put on headphones and sit and watch a movie."
The library even offers a public phone, because there are no more public phones out on the street.
"Say you're trying to get on employment, and you get put on hold, and you get put on hold, and you get put on hold," LaTronica said. "So meanwhile somebody else needs to call."
The library may need more of them soon. "That courtesy phone is constantly in use," she noted. "And there's no place else to make a phone call in town."
The library sees a tremendous need for access to technology. It has good Wi-Fi and freely makes laptops and computers available for patrons.
Not surprisingly, librarians also need to help people with little or no tech literacy.
"You have to file everything online," LaTronica said. "You have to fill out a form that needs to be submitted. And not only do they not have the technology skills, but they don't have the literacy skills to type it in. And so somebody needs to sit there with them and help them fill it out."
And so, "we're doing that kind of work," she said, noting that "libraries have always been involved in literacy and supporting people that have low literacy skills."
Many people have cell phones, LaTronica said, "because that is their only connection," she said. "However, you can't fill out a form to submit for benefits or for anything else on on a cell phone, so we help people with that."
Opioids add to the crisis
Housed people can live their lives with drug dependency invisible to the general public. Unhoused people cannot.
And while it's unfair to presume that anyone using drugs at the library has no home, "we have a number of people that don't have a place where they can go privately and deal with their substance use issues," LaTronica said.
The library holds a stash of naloxone (Narcan), an antidote to treat opioid overdoses, and several librarians have chosen to be trained in the drug's administration.
Luckily, LaTronica said, the staff has never had to use its Narcan stash. But that doesn't mean it hasn't seen overdoses. Just recently, the staff heard someone choking, coughing, and making unusual noises in the bathroom. It sounded like an overdose. The door was locked, but the librarians have a key.
"By the time we got the bathroom door open, [the occupant] was conscious," LaTronica said. "And he refused Narcan. We had it in our hand. So we did not need to use it. And so let's hope we never have to."
But LaTronica has recently bought some sharps containers to hold the needles she sometimes finds.
"We were finding them out in the alleyway," LaTronica said. "And we have on occasion found them in the restroom here."
It's not just Brattleboro
Homelessness is not just a Brattleboro problem; it is a significant national one. Estimates are that about 6 million people – roughly 1.8% of the total population in the United States – are homeless.
In Brattleboro, approximately 220 households – some with children – were housed in six local motels during the pandemic. The program was scheduled to end at the beginning of summer, but due to a last-minute deal, legislators and Gov. Phil Scott were able to maintain a certain number in the motels for a while longer.
But that figure does not begin to cover the number of homeless people in Brattleboro. There are as many as six "tent cities" hidden in cemeteries and along riverbanks. There are people sleeping in cars, on the couches of friends and family members, and in doorways or on park benches.
For a small town, that makes for a large and frequently visible unhoused population.
The causes of homelessness are many and complex. It starts with the cuts to the social safety net and to federal assistance for low-income housing (from $32 billion in 1981 to $7.5 billion in 1988).
When mental hospitals were closed en masse in the 1980s without providing the former patients with adequate services or places to live, that movement created a surge in homelessness.
LaTronica said the whole country is under siege from homelessness.
"We have not seen this kind of income inequality and wealth inequality since the Gilded Age," she said of the economic boom that preceded the Great Depression. "And look where that led us."
"It's just becoming worse and worse," LaTronica observed. "People are literally one paycheck away from losing their housing."
Meanwhile, "people have gotten so incredibly selfish. They're hoarding their own wealth and resources. This is Andrew Carnegie and the robber barons all over again."
This upward shift of wealth is not just a Brattleboro problem, LaTronica emphasized.
When visiting Los Angeles a couple of years ago, she saw "just miles and miles and miles of tents," she said. "I was in Halifax, Nova Scotia, last November, and the big boulevard downtown was filled with tents. It was a big tent city."
The reason was that real estate prices had skyrocketed.
"During the pandemic, lots of people moved in from other parts of Canada," LaTronica said. "They discovered Halifax. They said, 'Let's just move there from Toronto or Ontario.' And we'll pay the real estate prices. Somebody told me they increased 400%. That just pushes everybody else out."
Through no fault of their own and with no change in their circumstances, people are increasingly finding themselves without a place to live.
"It's not like people are not working, or they're losing their jobs," LaTronica said. "They're getting pushed out of their apartments because other people can pay more."
The same story can be told about Brattleboro.
"There's just not housing stock, and if you can find a place, it's very, very expensive," she said. "We are a small community. So we're seeing everything that's happening. It's everywhere."
Adding a social worker?
It would help the library to have a social worker, LaTronica said.
"We need somebody that we can call, because we do see people on regular basis," she said – someone staff could call and say, "You know, we're concerned about this person, can you check on them?"
"Mental illness is so devastating,"LaTronica continued. "We've got a lot of folks in here who are struggling, and have every reason to be struggling."
When LaTronica was in Halifax, she met with the social worker at the library there.
"They have a full-time social worker on staff, and, and she's called the community navigator," LaTronica said. "And part of what she does is train staff. It would be great to train staff in de-escalation tactics and in identifying people in crisis. And I think there are a lot of community members that would appreciate hearing from a social worker about the best approach to helping people. I could keep a full-time social worker pretty darn busy, I think."
Brattleboro is a caring and compassionate community, LaTronica said.
"We really do care about people," she said. "We don't want them to just disappear. We want them to be OK. We want to them to have someplace where they could close the door and go to sleep and not worry if it rains."
So many people are in desperate straits – a situation that LaTronica finds "so heartbreaking" and "so exhausting about the world right now."
"Even if we're not the one in desperate straits, it wears on everybody," she said. "It takes a toll on everybody."
And, LaTronica said, "We want them to be OK."