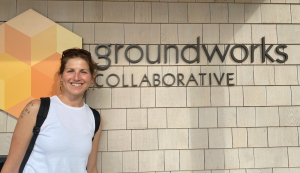 Groundworks Collaborative lost a beloved staff member—the Coordinator of Morningside House—in the tragic events of April 3rd at that shelter.
Leah Rosin-Pritchard is irreplaceable. She was a wonderfully strong, positive, beautiful and compassionate person who gave generously of her spirit and skills in support of all Morningside House residents and her professional colleagues.  There are no words to express the depth of loss felt by her Groundworks teammates and our hearts go out to her family and friends.
We can unequivocally say that Groundworks will not be the same without Leah.  Our staff and our program participants are grieving.  We are, at the same time, personally and organizationally impacted, and we are focused on supporting each other while continuing to provide food, shelter, and supportive services to people who need us. 
Groundworks is working closely with the Brattleboro Police Department and Vermont State Police on the ongoing investigation.

When tragedy strikes, it often takes time to learn and evaluate the facts.  We ask that during this process, we all refrain from making assumptions about these events and this tragic and heartbreaking loss of life. 
…
Groundworks leans on community partners to support operations while staff grieve loss of Leah
In the wake of the tragic loss of our coworker, Leah, Groundworks Collaborative has received a truly remarkable outpouring of support from our community, our organizational partners, and our state government.  In order to allow our wider community to appropriately respond to this loss, Groundworks will be collaborating with its many community partners to cover the services it provides.  This collaboration will allow Groundworks' clients to continue to receive the services they need, while Groundworks' staff take the time they need to grieve, assess, begin to heal, and return to work.
"It is clear that our entire staff needs a pause in order to come together to grieve, work together toward healing, and figure out our way forward," said Executive Director Josh Davis.
"While we've met every day this week, we've only been able to plan for the next 48 hours or so each day," said Groundworks' Director of Supportive Services Jess Guardado.  "Now that we've secured support to continue services throughout the pause, we can begin to plan for our group process in healing."
From April 7 at 5pm through May 2, services will continue at Foodworks, the permanent supportive housing communities at Great River Terrace and The Chalet, case management, and the Representative Payee program.  During this time, these services will be operated by our community partners and volunteers—allowing the Groundworks staff time and space for our healing to begin.
Point people have volunteered to coordinate each area of service.  Clients may reach out to the following Coordinators with questions or unmet needs:
Food—Putney Foodshelf:  ops.putneyfoodshelf@gmail.com
Outreach to/Support for shelter guests in motels—HCRS:  wwentwor@hcrs.org
Healthcare—Brattleboro Memorial Hospital:  rburns@bmhvt.org
Overall Coordination and Coordinator troubleshooting:  kmcgraw@bmhvt.org
For this three week period, overnight shelter clients have been transitioned to motels.  The Vermont Office of Economic Opportunity is funding motel rooms, allowing Groundworks to close overnight shelter at both of the organization's shelter locations on Friday, April 7th and return to providing shelter on Tuesday, May 2nd. Guests who stayed at the Drop-In shelter on April 5th are eligible for a motel stay.  Guests or referral sources with questions about accessing these programs may contact the relevant Coordinator as listed above.
The Groundworks Leadership Team will focus its efforts during this three week period on three priorities (1) long-term continuity of services, (2) caring for and supporting its staff and (3) providing support to Leah's family and friends.  We thank our community and all of the supporting partners for their generosity as we move forward together through this difficult time.
…
Contributions in Leah's Memory
Many requests have come in for information on making donations in Leah's memory.
Secure online donations can be made via this donate page or via postal mail to:
Groundworks Collaborative
Attn: Development Office
PO Box 370
Brattleboro, VT 05302
Please leave a comment or memo with Leah's name.  Please note, acknowledgement of your gift may take longer than usual.  Thank you for your patience and understanding.