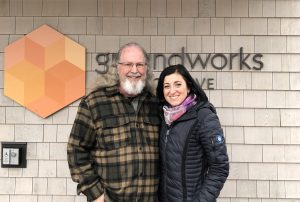 A number of significant transitions have taken place over the past few months at Groundworks.  This October closed out our capital project and marked the official opening of our South Main Street campus: two new buildings housing the previously seasonal shelter, expanded Healthworks collaboration, and an array of supportive services and administrative offices.  At the same time, we're welcoming new leaders to our team. 
Rhianna Kendrick departed Groundworks over the summer. Rhianna was a strong leader at Groundworks for eight years. Starting her tenure as a Morningside Shelter board member, she served as the Assistant Director of the Brattleboro Area Drop-In Center in the months leading up to the 2015 merger that created Groundworks Collaborative. As Director of Operations she played a central role in the organization's growth and development. 
Libby Bennett, Groundworks' Director of Development & Communications, points gratefully to Rhianna's "ability to see or anticipate a need and figure out how to meet that need" and to the sheer number of changes that have happened over the past eight years during Rhianna's involvement in the organization.  
"We're grateful for Rhianna's contributions and wish her all the best in her transition from Groundworks into private clinical practice," adds Josh Davis, Groundworks' director. 
This month the organization is announcing two new key leaders at Groundworks:  John Glover, LICSW, CPRP and Jessica Guardado, LICSW, LADC.  
John joined the team in July in the newly created Director of Shelters role—overseeing Groundworks' two shelter programs and supporting staff to design creative and thoughtful responses to meet client needs.
The challenge seems enormous given imminent cuts in programming funded by COVID-relief dollars, but John is undaunted.  A clinically-trained mental health practitioner from Los Angeles, he has spent his career in larger organizations, positioning him well to take on Groundworks' programs after years of expansion.  Comfortable responding directly to clients in crisis and well aware of the needs of staff for support, he moves flexibly in and out of his many supportive roles and brings years of experience maximizing resources and creatively responding to new challenges.  Substance use and addiction leave him undaunted—having spent thirty years in the recovery community, he is a calm, experienced presence.  He and his wife have already settled into Brattleboro, happy to be working in such a community of concern and also ready to take on the next stage of Groundworks' evolution.  
Jess Guardado comes to Groundworks from a long and successful tenure at Rutland Regional Medical Center. Jess is a social worker and addiction counselor with a strong clinical skill set.  Her previous work experience in shelters and homeless services in Boston and Chicago launched her interest in social work.  She comes to Groundworks enthusiastic about working on systems to best support clients and staff in the organization's challenging work.  As Groundworks' new Director of Supportive Services, Jess will be overseeing the Healthworks collaboration, Case Management program, permanent supportive housing sites (Great River Terrace and The Chalet), as well as data management, the Coordinated Entry process, and the Landlord Liaison program. Jess is excited about the many different opportunities to work on strengthening client experience, community partnerships, and staff development and training.  
Additionally, Groundworks is welcoming Peter Elwell and welcoming back Ann Fielder to the Board of Directors.  
As former Brattleboro Town Manager, Peter is very familiar with Groundworks' programs and approach—hitting the ground running on multiple fronts, including the organization's strategic plan for 2023.  
Ann Fielder is returning to the Groundworks Board after a year-long break—having served the prior six years on the Board, culminating in leadership as the Chair.  Ann's expertise in nonprofit management and fundraising—among other areas—are invaluable assets to the organization.   
Jody Mattulke's term ended with the board's Annual Meeting this past fall.  "We are grateful for Jody's many contributions and service to the organization," said Rita Ramirez, Groundworks' Board Chair. 
"With so many leadership transitions in the latter half of 2022, Groundworks is positioned—with a new strategic plan in effect—to deepen the programming that we have grown to provide over the past several years and for decades prior," said Davis.  "2023 is about strengthening the web of services and ensuring the health of the organization for sustainability; as the road toward achieving our mission to end homelessness and hunger has been made more challenging since the start of the pandemic."