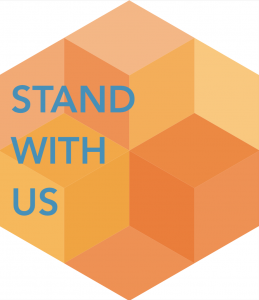 The following is a November 2021 commentary written by Josh Davis, Executive Director of Groundworks Collaborative. 
Stand With Us
Early in the pandemic, we recognized that despite the circumstances of COVID as a public health crisis, we had interrupted homelessness in Vermont.  We also took the stand that it is not enough to merely survive COVID.  The pandemic had brought us to a juncture where we could either get things right or watch things worsen.  We could choose dignity for all, or deepen inequality for many.  Just as some plants grow only in the space left by wildfire, so might the seeds of a community where everyone has housing in the wake of COVID.   
We have been given the opportunity to create reimagined communities. The resources made available due to COVID relief provided opportunity for long-range change.  Ending homelessness in Vermont is more possible and less daunting than ever before.
We've seen a couple different extensions over the past few months to the motel program, which has provided shelter for over 2000 Vermonters experiencing homelessness during the pandemic.  Allowing people to remain in the motels they've called home throughout the pandemic is a crucial step toward ending homelessness in Vermont.
The GA Emergency Motel Program is not the long-term fix to ending homelessness.  However, it has been very effective at keeping people safe from COVID and limiting the spread to an absolute minimum.  Locating everyone together in the motels has also allowed us, at Groundworks Collaborative, to maximize resources.  Despite workforce shortages and the impact of doing challenging work, we've been able to keep programs staffed and people supported throughout the pandemic.  Finally, having staff and resources on site at the motels lowered overdose deaths and increased connection to medical and mental health systems through our Healthworks embedded healthcare provider program.
Since the Emergency Motel Program re-introduced eligibility criteria in June and July, we've seen an inevitable increase in people couchsurfing.  This has a direct connection to increased COVID cases among the people we serve.  Our emergency housing system is again fully saturated—our local shelters are full, and this is by no means unique statewide. We are grateful that there are relaxed eligibility guidelines for those without stable housing to get through this coming winter, which will ensure that people can both be indoors and follow COVID prevention guidelines. This is not a permanent solution, but each night that someone is safely indoors moves us closer to safe housing for all.
Vermont's innovative approach to using corona-inspired funding to build much needed additional housing will work.  We've invested millions in housing production in Vermont, but the real impact of building additional housing units will take time to realize.  We need to aim for extension of the Emergency Motel Program for as long as it takes to get new housing ready.
As we work to address the housing crisis across the state, the complexity and intensity of what is being asked of our shelter providers statewide is growing.  As we're using this opportunity not to just get through the pandemic, but to transform our housing system, our system of services and supports to ensure housing stability needs an equally transformational investment.  Housing that is affordable, coupled with robust and accessible supports, is a formula proven to end homelessness. Investing in the scale and complexity of services is vital. 
I want to underscore the incredible vulnerability and devastating impact on people harmed by systems of care that weren't designed to work for them.  The people most impacted by these parallel crises of housing and service shortages are our neighbors in the most vulnerable situations—people living without a permanent place to call home.  Many live in distress from unmet medical, mental health, or substance use care needs.  People are unable to access critical care and supports that could shift their trajectory, improve their health and well-being, and—quite literally—save their lives.  Difficult as it may be to accomplish, abandoning people is not an option. 
As people on the fringes of the medical, mental health, housing and other systems strive to meet their needs on a daily basis, it can—for some—take the form of frustrating, anti-social, or even infuriating behavior. This visceral reaction, very often steeped in fear and disgust, keeps the emotional urgency of the conversation—the nature of the problem—focused on the individual; to the exclusion of seeing the person's circumstances (homelessness, substance use, etc.) as symptoms and manifestations of broken systems. This kind of reaction focuses our fix on the people who themselves are subjected to systems; as opposed to building more flexible and responsive systems that can better meet people's needs.    
It is not uncommon to hear that more sectors—including police, fire and rescue, motel owners and operators—are grappling with having to apply more of a 'social work frame' to their work.  This is not because we are dealing with something unique in Vermont. Rather, this public health crisis has pulled back the veneer on the scale and nature of the need that exists and persists for hundreds of Vermonters and thousands of Americans. We're experiencing the real impact of economic, medical and mental health systems that aren't working for everyone. We're seeing  communities across the state and country struggle with how to meet the underserved needs of people living with mental illness. There is a direct connection to past decades of mental health deinstitutionalization and what we're witnessing in our shelters and Emergency Rooms across the state.  To highly simplify a complex issue—there hasn't been proportional funding to community mental health agencies to build community-based models that meet the need. The impact of that is that our criminal justice system plays an enormous role as a mental health response—criminalizing mental illness disproportionately for those who are economically marginalized. 
A beacon of hope is rising from the partnership between Brattleboro Memorial Hospital (BMH), Brattleboro Retreat, Groundworks Collaborative, and Health Care & Rehabilitation Services (HCRS) known as Healthworks. We've designed a pilot program built on an evidence-based model and tailored for the unique challenges and opportunities in a rural town—building a parallel healthcare system for people who are experiencing homelessness. A new pilot project, Healthworks ACT (Assertive Community Treatment), will bring together a cross-organizational and amply-staffed medical, mental health, substance abuse and peer support model that works as a single 24/7-available team. This team will not work out of the hospital, but on-site where the people this program is designed to serve are located.
Broken systems will not be fixed with pilot projects in one community in Vermont, but this project has substantial potential to be a model for communities across the state, and to open funding opportunities that will allow it to be replicated. 
As we develop new, innovative paths forward, they may not always work as designed and won't change things overnight. Working together across once-siloed sectors, leaning on each other's strengths and challenging what is possible, while bringing the community along in support is not easy work. However, at Groundworks, we are steadfast in our dedication to our mission—working with people and systems to end hunger and homelessness for all people in our region—and we will not fail.  Stand with us.