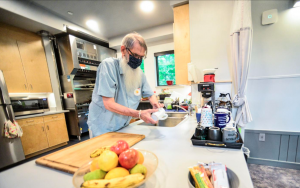 BRATTLEBORO — The new Groundworks Collaborative facility at 54 S. Main St. is opening this week, giving clients facing housing insecurity a break from the heat and access to vital services.
"We want to embody our tagline, which is 'Basic needs met with dignity," Josh Davis, executive director of Groundworks Collaborative, said Tuesday during a tour of the site.
He described the building being constructed for durability and to have "a very welcoming feel."
The common area has tables and chairs set up during daytime hours. At night, they will be folded up, and beds will be rolled out of storage closets.
Davis said his group had to contend with the 4,000-square-foot footprint when designing the project, knowing it needed to build a "flexible space." The shelter will be more congregant than the previous location at Winston Prouty Center for Child and Family Development.
Curtains will divide the space, most likely by gender, Davis said. Four bunk beds are in an upstairs loft area for daytime use.
A kitchen allows for clients to cook meals if need be, Davis said. A small food pantry has a refrigerator and area to store food, although Groundworks has its pantry Foodworks on Canal Street.
The resource desk was made with "good sightlines to see throughout the building," Davis said.
Two of the three client bathrooms meet Americans with Disabilities Act accessibility standards, and they all contain a shower, toilet and sink. A laundry facility has two washers and two dryers for clients, and staff have a laundry room for washing linens and towels.
Davis said the project was designed with energy efficiency in mind, and the building uses heat pumps.
As the state's motel program to house homeless individuals during the COVID-19 pandemic winds down, Davis envisions his staff holding more meetings inside the new space.
Eventually, Groundworks will have its support services at the neighboring 60 South Main St. Previously, the property was home to the group's Drop-In Center there.
The Brattleboro Development Review Board recently approved plans for a new building. Davis hopes demolition can begin by August and the new space will be ready by the end of the year, however, he said that might be a little too ambitious.
Also downstairs is an office for the group's coordinators, a breakout room for clients, and a program room for staff meetings and trainings that will function as a sleeping area for clients at night. Davis suggested the program room might also host movie nights.
Administrative offices are upstairs as well as another breakout room. Downstairs has a space for clients to store personal belongings for longer periods of time. Behind the building is a picnic table on a small deck.
The plan is to be open for daytime use only to begin with. Groundworks had a soft launch Monday to help about four or five clients beat the heat.
Davis said with significant changes coming to eligibility requirements for the motel and hotel program, his staff has begun meeting with clients to prepare. Like other employers in the community, Groundworks has a shortage of employees.
The shelter is set to open 24/7 in September with 34 beds, which is roughly the same number that was available at Winston Prouty. About 200 people have been participating in the local hotel and motel program.
Davis said his group hopes some of the participants will qualify to stay longer and others will find housing with friends or family in the community. The last estimate anticipates between 30 and 40 people will lose housing through the program on Thursday then another 50 people will no longer be eligible in September.
While a lot of federal dollars are coming in to help with housing, Davis said there's a lack of available units in the community. He described the issue having risen to the list of top challenges facing Brattleboro and the state during the COVID-19 pandemic.