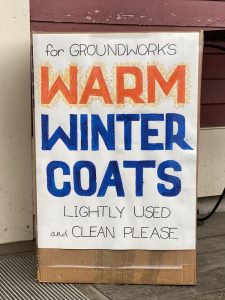 UPDATE February 3, 2021: Thank you for all of the coats. The coat drive has been a great success and we have more than enough donations at this point for this season.
…..
Many thanks to Nancy Shepherd, who is organizing a COAT DRIVE for Groundworks Collaborative!
Groundworks needs many WARM WINTER COATS — clean and gently used for men and women of all sizes. We will also accept warm boots, hats, scarves, mittens and gloves.
Drop off boxes can be found on the porch of the Putney General Store and at Home Farm Family Medicine (at 62 Elliot Street, Brattleboro).
Groundworks is currently supporting over 200 of our neighbors experiencing homelessness.
Thank you for your generosity!