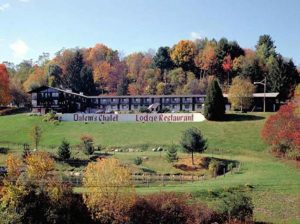 BRATTLEBORO, VT—The Chalet, formerly known as Dalem's Chalet on South Street in West Brattleboro, is now the site of significant activity. Windham & Windsor Housing Trust (WWHT) and Groundworks Collaborative have partnered to take a significant step towards ending homelessness in Brattleboro by providing permanent homes and supportive services to individuals who are currently sheltered in motels. In March, when the State of Vermont opened up motel rooms as shelter to ensure everyone in the community could safely isolate and reduce the spread of COVID-19, a fuller picture of the need for housing in Brattleboro and across the state came to light.
Brattleboro ranks high in a number of areas due in large part to the extremely low vacancy rate for affordable housing—currently hovering around 1% to 1.5%. For all practical purposes, this means there are no apartments available on any given day and not enough to absorb a large influx of people in response to this public health crisis. The Chalet will become home to people coming out of the motel program and a safe, supportive place to physically distance while offering a stable foundation through permanent housing.
"A bright spot that should be celebrated in this pandemic is that we have interrupted homelessness as a foregone conclusion and have provided shelter across this state for everyone," said Groundworks' Executive Director Josh Davis. "The Chalet project is an opportunity to get people into housing and provide services on site to ensure they remain successfully housed."
The Chalet is more than a brick and mortar project. The success of the new permanent housing relies on a balance of the "three-legged stool":  Availability of and funding for housing units, rental subsidies to bridge the gap between the cost of rent and what a resident can afford to pay, and supportive services—for residents who often are navigating complex mental and/or physical health issues.
Windham & Windsor Housing Trust has purchased The Chalet through funding made available through Vermont Housing & Conservation Board via the CARES Act, Neighborworks America, and a private loan through Brattleboro Savings & Loan. The Housing Trust, with an extensive portfolio in redevelopment has been able to work quickly in lining up contractors to renovate the building as the funding must be utilized by the end of the year. Individual rooms at The Chalet are being updated with new furniture, fixtures, flooring, and paint. Whole building renovations include installation of a sprinkler system, fire alarm system, and accessibility improvements in bathrooms. Exterior work will bring walkways and stairs into code compliance, and regrade parking lots. The largest scope items include installing new windows and doors in order to improve energy efficiency while working to maintain the historic charm of the property.
A combination of 25 Project Based and Rapid Rehousing Vouchers have been approved from the Vermont State Housing Authority (VSHA) and the Vermont Agency of Human Services. There are currently a number of individuals temporarily living in motels who already hold mobile vouchers—meaning, they could be in housing today, except there are no units available—highlighting the ongoing shortage of affordable homes.
Perhaps the most integral piece to the success of the project is the supportive services. Groundworks Collaborative, with extensive experience in supporting currently and formerly homeless residents, will be the lead service provider at The Chalet—offering on-site supportive services to residents seven days a week from 8am-11pm. Groundworks is also coordinating a quilted plan for case management provided by multiple service providers in the community to meet the comprehensive need for supportive services. Case management will be contributed in-kind by participating agencies. Pathways Vermont, Health Care & Rehabilitative Services (HCRS), and Youth Services have all committed to providing case management coverage for the program.
WWHT and Groundworks Collaborative have a five-year track record of working together to deliver housing-based supportive services within both scattered-site and place-based models such as Great River Terrace.
Because of the time-sensitive nature of the CARES Act funding, the project must be completed, with tenants occupying the property by the end of the year. The project has received support from the Vermont State Housing Authority, the Department of Corrections, Vermont Housing & Conservation Board and the generosity of private donors.  The Housing Trust is also pursuing grant funding through Human Services grants offered through the Town of Brattleboro and from several private and corporate foundation grants.
"We are so pleased to once again partner with Groundworks Collaborative to provide housing and supportive services to people who need it the most," said Elizabeth Bridgewater, Executive Director of the Windham and Windsor Housing Trust.  "Especially now, when it is abundantly clear that the health of our community is deeply connected with the health of every community member, everyone needs a safe place to call home.  The Housing Trust was able to quickly respond to several opportunities to create new housing during this pandemic.  This fall, in addition to purchasing the Chalet, we also launched the Re-housing Recovery Program that helps private landlords create new rental units and/or bring existing units back to a rentable condition.  These two initiatives are projected to create approximately 85-90 new housing opportunities by year end."