Groundworks publicly launches fundraising campaign to build a permanent home for Brattleboro's Seasonal Overflow Shelter and adequate space for daytime shelter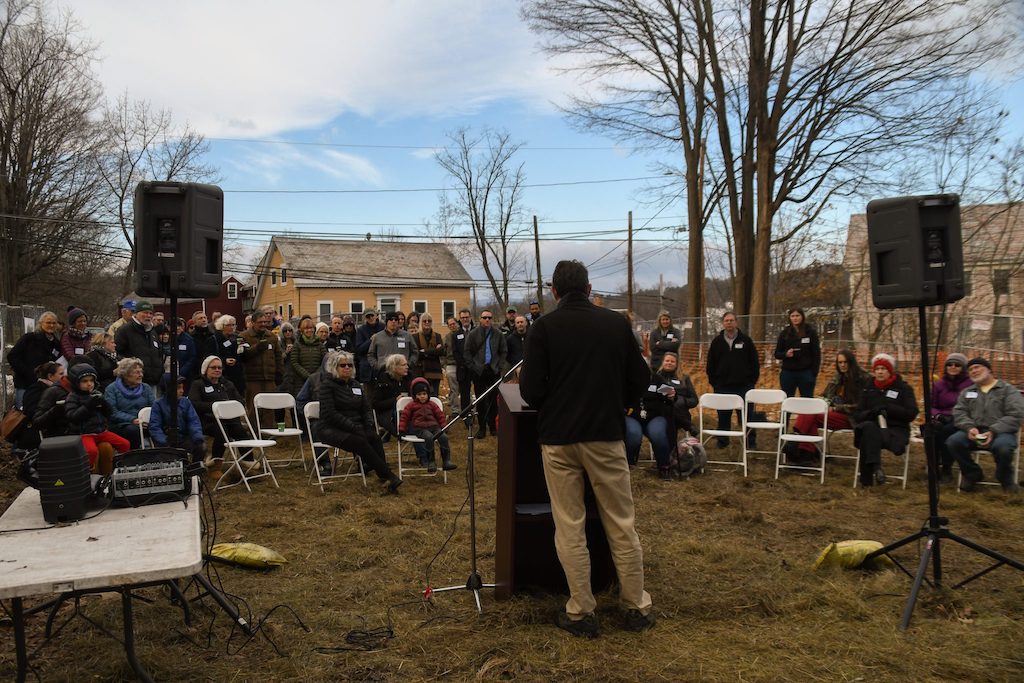 Groundworks' Executive Director Josh Davis addresses the crowd—publicly launching Groundworks' Capital Campaign. Monday, November 25, 2019
BRATTLEBORO, VT—Groundworks announced plans Monday morning outlining the future of the construction site adjacent to Groundworks Drop-In Center.  In an effort that will cost $3.3 million—for which Groundworks has already secured over $2.2 million in committed funds—the nonprofit provider of services to the region's citizens experiencing homelessness will build a roughly 5,000 square foot building to permanently house the Seasonal Overflow Shelter (SOS).
The announcement Monday morning included a call to action to the greater-Brattleboro area to help Groundworks raise the final $500,000 to open the doors of the new building in November of 2020. 
"This winter will be the fifth year the Seasonal Overflow Shelter has been without a permanent home," said Rhianna Kendrick, Director of Operations for Groundworks.  "The program provides lifesaving shelter for those with nowhere else to go. We devote a lot of resources to finding and securing a location each year to ensure the survival of this program.  The alternative would simply be devastating for our community."
The new building will include shared space to be converted each day and night to house both the Day Shelter services currently provided at Groundworks Drop-In Center (where the space is inadequate to suitably host anywhere from 40-60 individuals that make use of the space each day) and the Seasonal Overflow Shelter.  The SOS is operational each winter from November through April—having opened on November 18th for its third year in a dormitory on the Winston Prouty (formerly Austine School for the Deaf) campus. Plans for the new construction at 56 South Main include space to seat 60 or more people and 34 beds that will roll away and be stored when not in use.
We're excited to be able to build this space for our clients, our organization, and our community," said Groundworks' Executive Director Josh Davis.  "At the same time, it's a shame that we're driven to grow as an organization, because it's indicative of increasing need for our services. This project is going to help us with space, certainly, but more importantly, it will grow our capacity to provide dignity and opportunity so that our clients, and this community, can rise.
Plans include restrooms with showers, a laundry room, a full kitchen and food pantry, as well as lockers for client storage.
The project will create a two-building campus that will consolidate a number of Groundworks' programs and administrative offices.  Currently, the organization is providing services in five offices and locations in Brattleboro. The consolidation effort is expected to be a cost-neutral move for the organization once the building is constructed.
"This project will allow for appropriate locations and adequate space for improved efficiency and delivery of services for our neighbors in need," said Director of Development and Communications Libby Bennett. "One example of this is the necessity to provide confidential meeting spaces for quality case management—it means so much for the success of this important work and we've gone without such spaces for too long."
Renovations on 60 South Main Street—the current home of Groundworks Drop-In Center—will begin once the new building opens to ensure there will be little to no interruption of services offered through the Day Shelter.  The renovated building at 60 South Main will then become home to Groundworks Case Management services, the Representative Payee program, and the organization's Healthworks collaborations with the Brattleboro Retreat, Brattleboro Memorial Hospital, and HCRS.
Public funding for the project is coming from the Vermont Community Development Program, the Vermont Housing and Conservation Board, and the Town of Brattleboro, while private funds include grants from the Thomas Thompson Trust and Jane's Trust, as well as nearly $1.2 million raised from individual donors in the silent phase of the project's Capital Campaign to date.
"The support we've received in the early stages of this project has demonstrated our community's  generosity and compassion in caring for our neighbors in need," said Davis. "We still have a significant amount to raise to open the doors of this new building, but the early support is a clear indication that we can achieve our vision of a day when everyone in our community has enough—food, shelter, housing, meaningful work, adequate health care, transportation, and connection to community."
In an effort to raise $500,000 through the public phase of their Capital Campaign, Groundworks is encouraging interested community members and donors to visit their website—GroundworksVT.org—for regular updates on progress and ways to give.
Questions about the project can be directed to Groundworks' Development Office at 802-490-2951 or lbennett@GroundworksVT.org. Gifts to support Groundworks' Capital Campaign can be made online at GroundworksVT.org or by mailing a check—payable to Groundworks Collaborative—to PO Box 370, Brattleboro, VT 05302.  If applicable, please indicate your preference to support the building project in the memo line.